TR05 AVULSED "Seven Years Of Decay" DIGICD 99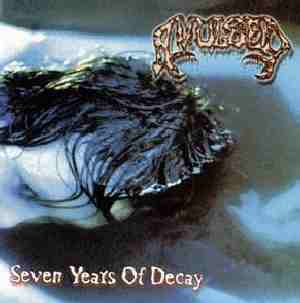 Tribulacion Prod. in cooperation of Quirofano Prod. present to you a Brutal and representative band into Death Metal scene. On this cd you can appreciate the development since this first demo until the prior step the second album. All these tracks are just non-albums recordings and have been played with differents line ups. 16 traks in 64 minutes of real Death Metal feelings ;including great digicd in color cover and quality sound .Really extreme!!!
Track list:
1. Skinless.
2. Addicted to Carrion(Real Audio Sample).
3. Powdered Flesh.
4. Ecstasy For Decayed Chunks.
5. Morgue Defilement.
6. Deformed Beyond Belief.
7. Achieving The Perfect Deformity (Intro).
8. Addicted to Carrion.
9. Bodily Ransack.
10. Gangrened Divine Stigma.
11. Malodorus Lethal Gases.
12. Infanticide.
13. Denial (Intro).
14. Unconscious Pleasure.
15. Clandestinely Autopsied.
16. Mutilating Process (ASPHIX).