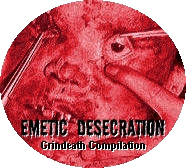 TR 07 EMETIC DESECRATION VOL1 (Grind Death Compilation) CD`2000
In asociation of the serious label Sylphorium Records present this compilation cd for the bizarre and sick people. Putrefacted Death Grind Metal attack!. Are 18 bands of nauseating experience, featuring:
*KRUEGER,*ETNOCIDIO(Sample),*BLOOD,*AVULSED,*MASACRE(COL),*FERMENTO,*NOCTURNAL SOUL,*DEHYDRATED,*BURIETH,*DEAD INFECTION,*MALIGNANT TUMOUR,*FLESHLESS,*CATASEXUAL URGE MOTIVATION,*DISGORGE,*PURULENT,*DESECRATE,*PLANTA CADAVER *DEEDS OF FLESH and *INTERNAL SUFFERING.
This 74 minutes are sample of the reallity.!We are only decayed corpses! ALL!!!!!!!!!!