TR02 INFERNAL "Hymn In The Sinister Storm" CST `97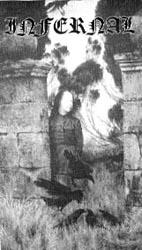 Great demo debut from a band totally into darkness. 5 songs with a great powerfull of blasphemy. Just an ANTIcristian Black Metal music...is a cold atmosphere,where the desolation and laments of the beast prevails!!!.
Track List:
1. The infernal Throne (Inst).
2. Force.
3. War Forever.
4. Power of Circle.
5. In the Silence a Morning Star.